Bobby Countryman
Bobby Countryman is an elderly man with pre-existing health conditions which placed him at increased risk to COVID. The facility in which Countryman was being held, the Butler Medical Center, was not complying with a number of the Bureau of Prison's COVID protocols. We successfully argued for a compassionate release.
Countryman's Case Conduct and Physical Conditions
Countryman was serving a sentence of Three Hundred Months (25 years) for drug charges. He was sentenced in 2001 and was serving his sentence at Butner Medical Center in North Carolina. Countryman's sentence was originally scheduled to end in 2022.
His sentence was commuted, and was scheduled to leave in 2022.
In 2020, the Coronavirus Pandemic began to ravage the country. Butner Medical Center was hit particularly hard in the beginning of the pandemic, and the Department of Justice's own internal inspectors determined that Butner was not acting in compliance with BoP protocols around the virus.
"FCC Butner was not complying with some of the BOP's quarantine guidance because of the high volume of COVID-19 cases and a lack of quarantine space.
Butner did not quarantine inmates who tested negative for COVID-19, but who, after testing, were likely exposed to known COVID-19 positive inmates, which was inconsistent with BOP and CDC guidance.
Although Butner's management took steps to reduce staff movements throughout its five facilities, Butner was not able to restrict staff movements to fully mitigate the risk of cross- contamination and spread of COVID-19 at three of its five facilities.
While Butner had sufficient supplies of personal protective equipment (PPE) during our inspection, we found that staff were not changing N95 respirators when moving between units that had COVID-19 positive inmates and those that had COVID-19 negative inmates, which may have increased the risk of cross-contamination.
Although Butner worked to comply with the Attorney General's guidance on home confinement, the composition of the inmate population and the need to adapt to rapidly changing guidance presented challenges to reducing the complex's population in a timely manner."
Department of Justice, Remote Inspection of Federal Correctional Complex Butner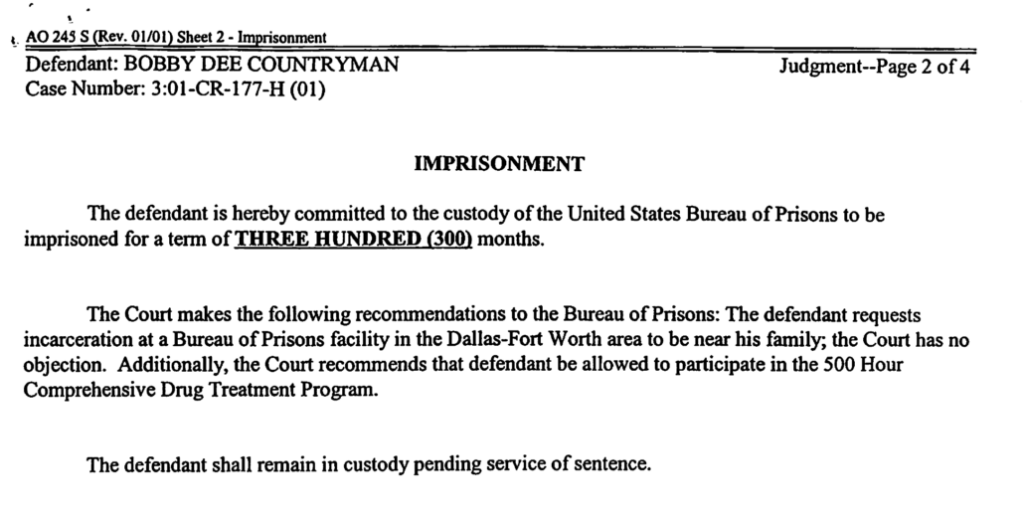 The Law Office of Jeremy Gordon Files Suit for Countryman
The Law Office of Jeremy Gordon filed for Compassionate Release on Countryman's behalf, arguing that his age and preexisting conditions put him at particular risk for serious illness and death. The Office also indicated that Countyman was not a danger to others and that he was otherwise eligible for release.
To our surprise, the government wrote a response indicating that they were not opposed to Countryman's release under the circumstances provided.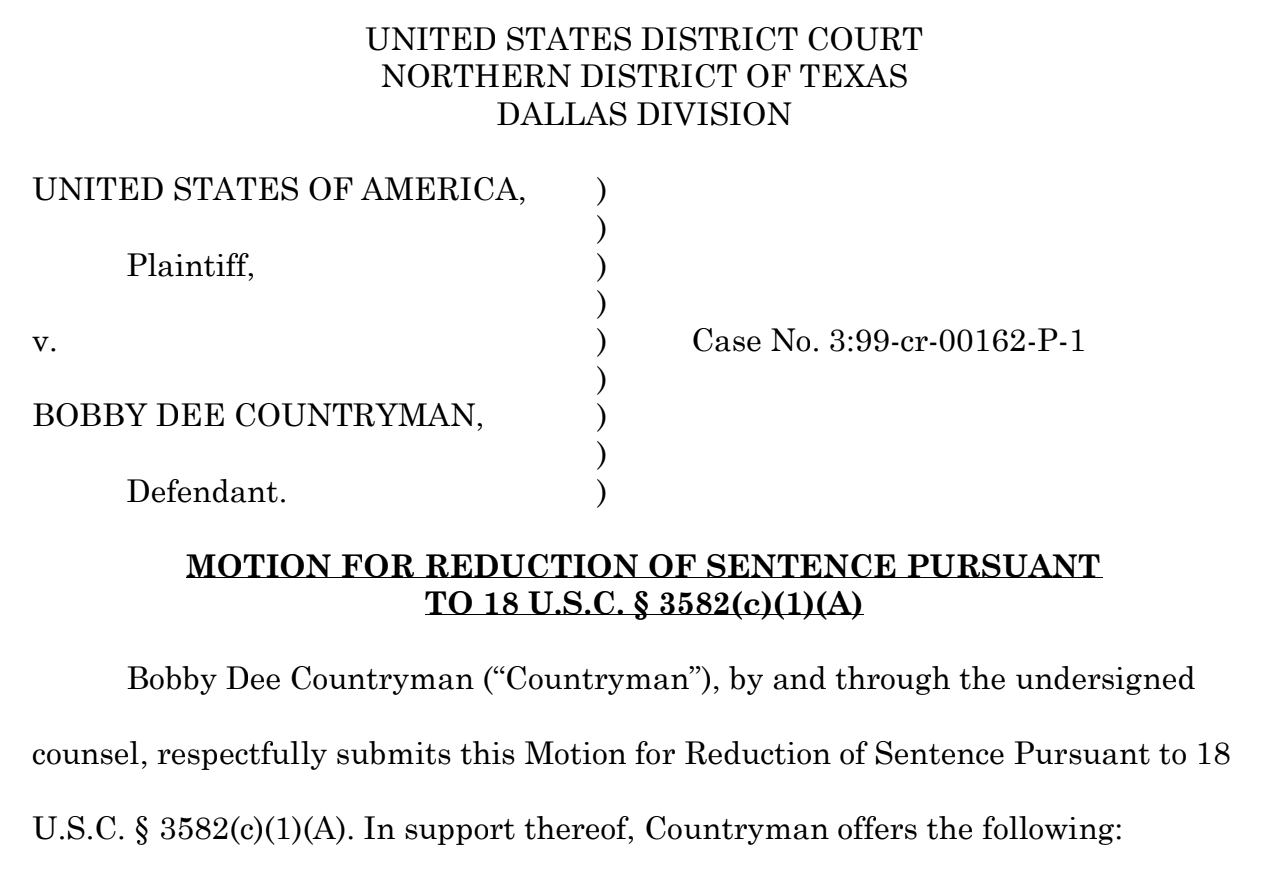 "Considering these factors, the government does not oppose the defendant's request for compassionate release."
This was quickly followed by an order granting an immediate release from the court. The law office of Jeremy Gordon immediately reached out to the Bureau of Prisons and asked for his immediate release pursuant to the court's order. The Prison complied and Countryman was home within a few days. The Law Office of Jeremy Gordon is proud to report that Countryman is doing well at home and reacclimatizing to society.
In the client's words
We were able to speak to Countryman's son about the case, and about Countryman's release.
Jeremy's Remarks
We got word that Countryman had been granted release while I was on the way to the airport on another case. When I got to the airport I picked a spot in the food court to set up shop and reach out to the Bureau of Prisons in order to get the release taken care of. When you are fortunate to get a client released from prison you really spring into action in order to do whatever you can on your end.
I also called his loved one as soon as I got to my gate. I told his son to be ready for the call from the prison and to try to rent a vehicle to pick him up. Sometimes the Bureau of Prisons puts them on a plane or a bus, other times you go and pick them up. I wanted them to be ready for anything. To my surprise, he was placed on a plane quickly and home within days.
The family indicated that they found me in part because of the inmate newsletter. We send that newsletter out each week in order to notify the incarcerated population about changes in the law and ways that they can continue to fight their case and try to get home sooner. We send it out each week, even during the holiday season. It is as much of a service as it is anything else.
If anything here applies to you, contact us today.
At The Law Office of Jeremy Gordon, we fight aggressively for our clients. We are experienced, and know what it takes to present a successful defense in a federal criminal case. For prompt, courteous and skilled representation as your federal criminal defense attorney, contact us today to schedule a free phone consultation.
Contact Us